Name: Nick Esser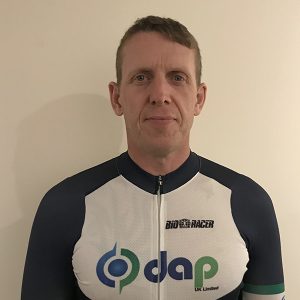 Road Category: 3rd Cat
Birthplace: Gt Yarmouth

Favoured discipline: Triathlon
DOB: 14th April 1972
2018 highlights: Barcelona Ironman – finally "getting it done", several age-group wins along the way in local triathlons and overall win in Wildman Triathlon (half-Iron distance) & Lotus mid-week fun.
Go to pre-race meal: Has to be scrambled eggs on toast and copious amounts of coffee 🙂
Best personal race performance and why: Numerous memories spring to mind – First time finishing the Eastern Regional Championships after 5 times trying. Going sub-hour for the first time…on a road bike. Winning a Road Race by a clear 20 metres without realising it. Leading out team-mates in the last mile for a team result. Nowadays it's more about fun rather than a result – just getting off the bike knowing that you gave everything and enjoyed the race, regardless of result.
Zwift/turbo or outdoors in winter? In my older years it has to be the turbo – I don't have anything to prove. Been out there in the depth of winter, got the t-shirt, it's in the loft.
Average week in training: Average triathlon week is 12-15 hours. 3hrs swim. 4hrs run & 6-8hrs bike.
2019 ambitions: Podium at Challenge Championships in Bratislava (done), going sub-5hr in Half Ironman in September. To enjoy this sport – after all, that's why we do it 🙂